Tips to help your Jewelry Collection
Tips to help your Jewelry Collection
Having an extravagant jewelry collection is desired by many yet attained by few.  At luxamart Jewelry in frisco, TX we have been helping the community with numerous items from their personal collections.  If it is a simple watch battery or an integrate designed Engagement ring set we will give you the best.
2 Tips for a Successful Jewelry Collection
Design as an effective "added value" enables large companies in the jewelry industry to opt out of the increasing price battle. Tailor-made collections, developed in cooperation with designers, win over new customers and induce loyalty in existing customers. This requires clear agreements in the design briefing.
In times of increased price competition and global producers, cooperation with designers is also an important factor for large jewelry companies in order to develop new collections in a rapid and targeted manner. Increasing numbers of companies are attempting to sharpen their profiles by drawing on the services of (freelance) designers. Unfortunately, very few of the jewelry designers have an education that equips them for this kind of service. Simple rules and a check program for constructive cooperation facilitate the work and increase the probability that both sides will experience success.
Many aspects of what would be self- evident for advertising agencies and product designers in their daily dealings with customers are still uncharted terrain for jewelry designers and indeed the entire industry. Both partners find it difficult to establish systematic and constructive cooperation. Indeed, the number of items that need to be clarified during a briefing is very large and much of the data is also confidential. It is therefore of immense importance for both sides to ensure that there is a solid contractual basis for trusting cooperation. So-called "one hit wonders" are more a product of coincidence. Instead, jewelry companies should be intent on defining a clear corporate profile in the form of precise design statements. A company can position itself on the basis of unique characteristics, thus facilitating the establishment of a recognizable brand.
Clear Statements Hit the Mark
For the jewelry firm and the designer alike, the meeting for an initial design briefing serves as a basis for the cooperation. This is where the clear goals are discussed, along with how and where the company wishes to establish a market profile and where the company's strengths and weaknesses lie. This results in the logical definition of the requirements placed in the designer with regard to the development. Regrettably, unclear statements such as "We need a new collection. Show us your sketches" are frequently the only basis of a job order. It is more sensible to demand a clarifying discussion in order to establish the objective requirements that can then be tackled in a targeted manner. This briefing meeting will indicate where there are still loopholes that the company needs to clarify. After all, the aim of the newly launched cooperation is to integrate a new collection in the overall presentation and the public profile of the company.
Designers can use this personal meeting in order to receive concrete and accurate information for a strategy. Accordingly, the risk of missing the client's profile due to one's own view of trends and design concepts is significantly lower. A briefing provides discipline to remain on message with what the company envisages and therefore cuts possible misunderstandings between the company and the designer.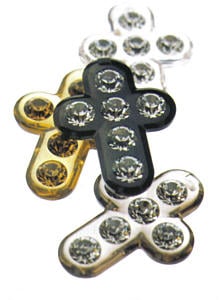 "Love Notes", acryl, silver, design by Leslie G. Hunt for N:Joi
In general, it is helpful for both sides to draft written minutes of the briefing after the meeting and to hand them over. This is constructive for both sides, as matters that require clarification are defined in writing and therefore offer a reference source for the course of the project. The briefing should not be lengthy and should be to the point. A good briefing is characterized by the logical connection of the individual aspects.
Leading by Example
It takes a clever strategy to establish a new company in a shrinking market. The relatively young company N:Joi from Wiesbaden, Germany, has firmly integrated the topic of design and the cooperation with designers in the process of its development. The basic idea is based on creating the value of fashionable jewelry in the form of unusual or witty creations instead of through the use of precious materials such as gold or diamonds.
Come in to luxamart today for the greatest value for your jewelry needs!  We buy, sell and repair and clean diamond rings, gold, silver, platinum and coins and coin collectors.  Staying up to date on technology and industry trends we provide amazing services.  We also sell and buy and repair luxury watches, Engagement rings, necklaces and much more.  We are located in booming frisco, TX at Lebanon and Preston Rd.  
4944 Preston Rd Suite #116
469-579-4077